Here's the latest news: We went to see the Oncologist at the BC Cancer Center. It's what we thought … they want me to do chemo + radiation. Ugh.
The pathology doesn't lie. It's a numbers game. On my Mother's side of the family there is ovarian and colon cancer. On my Dad's side of the family there is fallopian cancer. Add a dash of Ashkenazi Jew and what all that means is that my genetics are bad and the scariest part was that my tumor was going for it. I mean really going for it … it had moved into my lymphatic system and was starting to sprout legs.
We got to it just in time…
Because of all these bad genes and that the recurrence rate for me is high – I'm doing chemo. One of my readers Denise left this comment about chemo and I thought it perfectly explained why we decided to move forward with chemo:
"Cancer is like a dandelion plant that has gone to seed. Through surgery, they remove the dandelion plant. However, it is unknown how many seeds have spread throughout the body as the wind blows it where it wills. Chemotherapy is like the weed killer."
My chemo starts June 4th. I'll lose all my hair 2-3 weeks after chemo starts so get ready for some instagram photos of that process. 🙂 Actually I'm going to cut it all off and donate as much of it as I can to a place in Ontario that makes wigs for kids.
But that's not the big news. The big news is that I'm closing my store.
It's been agony trying to decide what to do. I think I've cried more tears about closing my store then about all this cancer stuff but bottom line is I can't manage it all.
This isn't a decision I've come to lightly. I've had a lot of offers for help, for volunteers for fundraisers but here's what it boils down to. I have 7+ months of chemo and 5 weeks radiation ahead of me and that takes me into 2014.
Sarah's Place takes a lot of time and energy. There is SO MUCH that goes on behind the scenes that makes the store look effortless. I know it looks like I sit behind my desk and hang out with people all day… 🙂 but if you had any idea of the work I do when nobody is around you wouldn't volunteer to help. It's a LOT of work.
And chemo is not just a day of chemo then a few days of feeling crappy … It's check-ups and blood-tests and bone scans and picking up prescriptions and in between all the medical stuff I want to try and have a normal life where I can have time to do things for my body that promote health and happiness as well as to relax and to have fun with my husband and Fergus.
I just can't manage it all …
When I went to therapy the other night to talk about my anxiety over whether or not to close the store – my therapist said something that made a light go off for me. "Do you want to spend your limited amount of energy resources you'll have during your chemo experience – running around taking care of your store? Or do you want to use that energy to take care of yourself?"
Well … I choose me.
As much as I want this cancer story to be about how I triumphed over everything and showed the world how I can "do it all" despite the cancer … that's not fair to me. It's too much pressure.
I've spent so much of my life PUSHING things forward. Whether it be working on the cookbooks, the iphone app, doing websites for me or other people, helping my husband run his tattoo shop, running my own shop. I NEVER STOP WORKING. Like ever. Even when I'm on holiday I'm usually doing something work related.
I've worked at a frenzied pace like this for too many years and it's time to stop … Cancer is my chance to press the pause button and just focus on one thing. Me.
RETAIL STORE:
June 1st will be Sarah's Place (the retail store) last day open. Please come shop at my store this week. Come buy my stock-up. The less stock I have to take home the better!! Either in person or online. I have many bills to pay and vendors to pay-out.
ONLINE STORE:
I will keep the online store going out of my house as best I can… If you live in Victoria use the code: FREESHIPPING and it will then be processed and taken down to Tattoo Zoo (1215 Wharf Street) for you to pick up. If you live outside of Victoria – please shop online and I'll pack it up and Gerry will post it in the mail for you the next day.  🙂
I wish I had better news for you guys. It's a big fucking bummer … but there are some bright spots:
#1. More time for Fergus photos on Instagram  🙂
#2. Self-care. I am taking care of myself. Putting myself first. Being "self-full" is a good thing. I am using this time to focus on my body and my mental health and I will be able to be strong, present and ready for the task at hand.
#3. I'm not dying. 🙂 This is preventative chemo – to make sure every last little cancer cell has been wiped out. I'm looking at it like a computer re-boot. We have to wipe my hard-drive of any trace of the virus so I can be re-started good as new.
#4. What a learning experience this store has been. And I'm already looking forward. Past the chemo. Already daydreaming about what's after chemo. Whatever that is – I know it's going to be amazing because of what I've learned  from running Sarah's Place the last couple years… but saying good-bye to this store is going to be really hard. 🙁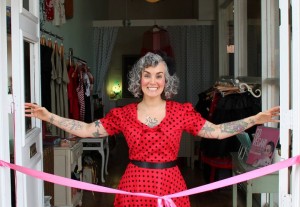 In July 2011 when I cut the ribbon and opened the doors to the public… I didn't know what would happen. Would people come shop at this weird little boutique?
My nervousness quickly morphed into gratitude because as soon as I opened the doors – we were flooded with customers. I thought I'd get through my first year of business by the skin of my teeth but instead my store took off like a rocket and that's because of you guys. 🙂
I can't thank you all enough for your support. Sarah's Place was an incredible success from the get-go because of your enthusiasm. I could not have done any of this without you.
I'm so proud of us. 🙂
I do also need to thank the staff at Market Square where my store is located. The people who run this complex are top-knotch and have been very supportive of me since the beginning. Big ups to them!!
So that's the plan for now … I'm feeling bitter/sweet about having to close the retail store but knowing you're all out there pulling for me makes me feel like I can do anything! 🙂
Love you guys.