Had a great weekend. I got to see Raven. Gosh … he's the most beautiful baby! Look at those dimples!!
My friend Chris Hold came over from Vancouver to do a guest spot and he stayed at our house while he was here. Chris was Gerry's apprentice and has blossomed into a great tattoo artist and I knew I wanted to get tattoo'd by him while he was here but what to get? What to get??
I decided on an apple with a heart shaped bite. 🙂
It's close to my elbow so it was a little painful in spots but Fergus made me feel better…Â  😉
After my tattoo – the night turned into a tattoo party!  Chris jumped on the massage table and Gerry and Kyle put stencils on both of Chris's legs.
And then they both tattoo'd Chris AT THE SAME TIME!!
Tattoo guys have the worst posture …
This is the tattoo Gerry did on Chris.
It's our shop tattoo. It's a tradition we have, everybody who works here gets this tattoo eventually. Chris did his apprenticeship at Tattoo Zoo years ago, and never ended up getting one, so Gerry gave him one.
It's not a tattoo party unless Gerry is telling stories … I love my man! 🙂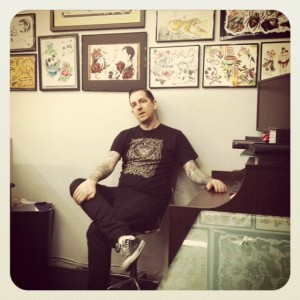 To make the weekend even better – our friend Greg Bennick popped into town. He was here for the Truth and Reconciliation Commission. We didn't get to see much of him as he was so busy but we did spend a few fun hours together. We had Chris in the guest room and Greg on the couch. I love a full house!! 🙂
On Sunday Larsen Music Ukulele Week started and I went to the Ukulele Love-In.
It was so fun to play ukulele with a group of people. 🙂
Monday I cleaned the house, ran errands and then Gerry and I went for a hike around Thetis Lake.
Great weekend …